We are the midst of a pantry and linen closet remodel. As a result, I am going to get to finally paint the big bathroom.  It has needed it for a while, and now with new drywall surfaces, I am going to get it done.
The question is What am I going to do in there?  It is a large space and can stand a big color, which I am inclined to because so many of the rooms in the house are very mellow colors. I thought about that great tealish aqua color that is popular or orange or green or…. anything really.
Here is a little view of the bathroom.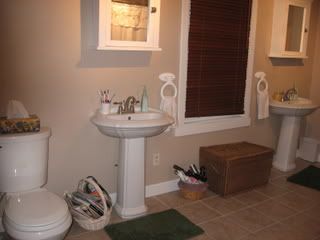 This is also the kids bathroom.  I would like it to be lively and fun.  Whimisical without being annoying.  I don't want fish or swinging monkeys or anything dumb.
I have been looking at shower curtains because I think that you can swing a whole color scheme on that focal point.
I like this one, but this is MY kind of taste, not necessary kid-esque…
I like this, but wonder if it is too cheezy. Additionally, the bathroom is already tan with brown and green accents. I would like to see a change.  I could paint it the green in the curtain… but my master bath is that color too.
I like this, and I could definitely see the bathroom the aqua/teal color in this.
Kinda diggin' this too… looks fun
so… thoughts?  Ideas?  I am really open to anything great. This is just from one site, and by no means exhaustive.