I am not even quite sure where to start in writing about my recent travels.  I have had SO much fun in the last couple weeks that there is NO way I can do it justice.
Just in case there happens to be anyone who does not know that I went on a cruise recently, I just returned from 7 days in the Caribbean.  This trip was a earned my my sister-in-law Lyssa from her company Stampin' Up.  She is quite talented and works VERY hard, and her husband could not go this year due to graduation.  SO I GOT TO GO!!!!  What an incredible gift!
We set off on the amazing Allure of the Seas.

I still can not believe this ship!  This ship is the largest cruise ship in the world.

I am pretty sure I never saw the entire ship.  It was huge!
The ship held nearly 6,000 passengers and 2,000 crew. The ship was so large, I did not feel waves until the last day at sea when we encountered rougher waters.
These beaded dresses that were hanging between the two banks of glass elevators on one end of the ship.  They were our favorite elevators so we spent a lot of time looking at these amazing dresses.
My favorite part of the entire ship was Central Park.  I could have spend my days there.  I do not know who thought of putting a giant park on a boat, but they were genius!  It was beautiful!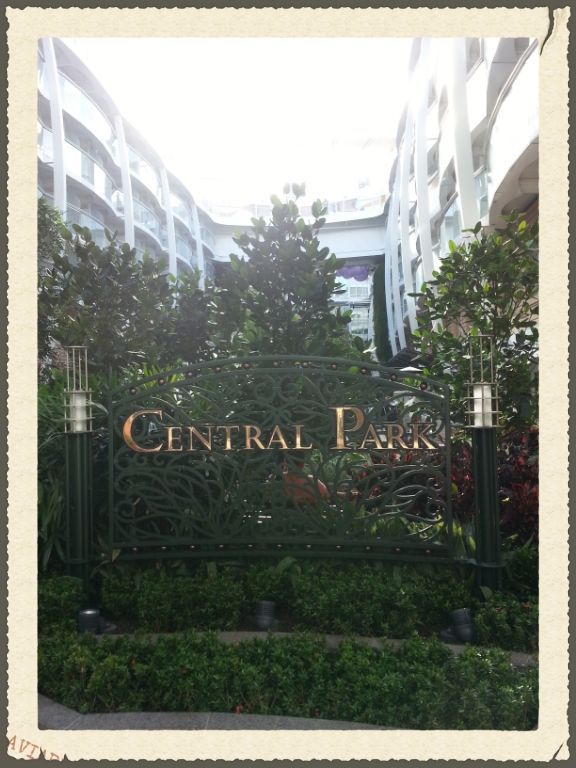 Our room even had its own balcony!

Again, I cannot express how grateful I am for the chance to go on this trip. I honestly have been able to do so many interesting and fun things the last couple years because of other people's generosity.  My parents (and J.S.) made Disney possible for our family two years ago, my in-laws took our entire family on a cruise to the Bahamas last year, and now this incredible trip!  I still cannot believe that I went!  God has been SO good to me!  People have been so good to me!