The Christmas Decorating has begun at our house.  It is always a big job, and I anticipate and dread it at the same time.
I mean who is really excited about risking their own life to ascend the rickety attic ladder?  Then, when you accomplish your task without dying you must navigate the system of boards spanning the rafters that hold the ceiling in your house.  You pray you don't miss and end up wearing your family room as giant pants.  Then you drag the 400 bins that it takes to house your decorations across the boards of death to your husband who is waiting at the bottom of the ladder of fear.  Then, you get to finagle the bins through the hole in which the ladder regularly lives and to your husband without falling out of the hole.
I mean, this all sounds like great fun, but I really do not enjoy it.  Forgive me, it is not my favorite task.
So, now the 400 bins now reside in my family room.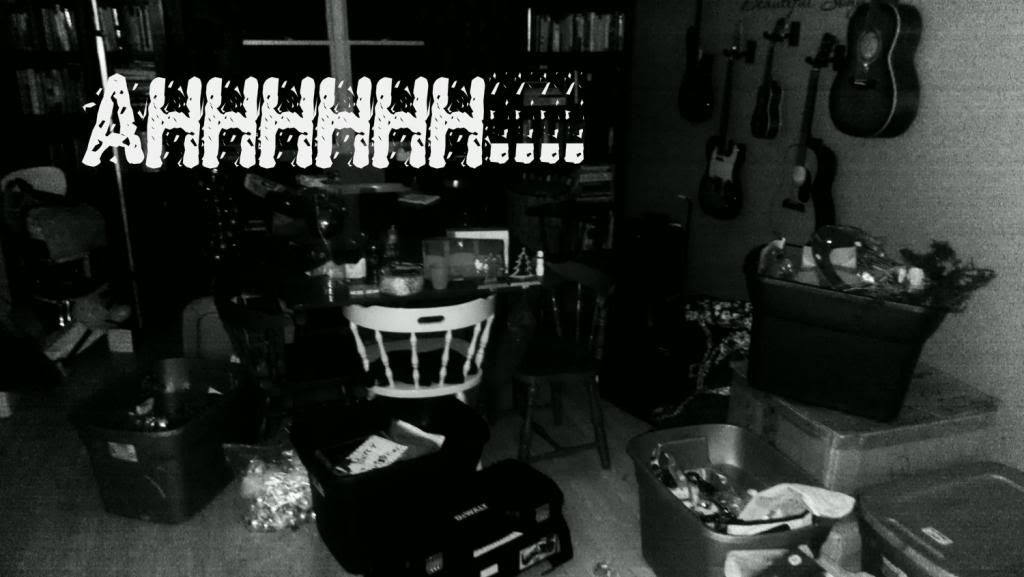 Now it is my job to pretty up this joint. I enjoy it, but it can be overwhelming. I am thankful that this year I have a whole lot more time to accomplish such tasks!
Christmas decorating night also is Finger Food Feast at our house.  Dinner tonight was comprised of fried mushrooms, fried cheese curds, BBQ and Buffalo chicken wings, and those little pizza thingees that I can't remember their real name.  You can imagine the heartburn that dinners like this can bring! I am sitting here thinking, "Why in the world did I eat those pizza thingees?!?"
But, Finger Food Feast is something the kids wait for.  Even the man-child asked about the menu.  Yes, a teenager who could not care less if he ever decked a hall again, was eager to munch on the traditional indigestion inducer.
As we unpacked the decorations for the big tree, I was reminded of something that made me very sad earlier this year.  We did not take our bins to the attic right away this year, and they were all living in the part of the garage that floods during a really good rain.  It really should not be a problem because all our decorations are in plastic totes, right?  All of them, except one pretty box from my Aunt Louise that housed my precious collection of the special ornaments.
Every ornament from my ornament exchange from our first church in Buffalo.
Every ornament anyone had given us a gift.
Every ornament that my students had given me over the years.
Every ornament that my mother-in-law gave my husband when he grew up and left home.
Every ornament that my children have made us over the years.
I gasped when I found the box had fallen to the wet garage floor between the totes.
I ripped it open thinking that if things were just wet, I could dry out everything except the paper ones.
But, instead, I found mold. Nasty, black growing mold all over my precious memories.
I bawled. Those were MINE!  They were my reminders of my children's early years.  They were my reminders of where we have been and how the years have shaped us.
I find myself a little less than excited to decorate the trees this year.  We usually have two trees: One tree prettied up with lovely thematic decorations and one tree where every ornament tells a story.
My trees do not tell their story this year. My kids said, "Oh we will make you new ones!" And, yes, they will make new ornaments, but I am still going to miss them.
Frosty the Snowman spoon from Pack 396
The golden star from our first Christmas party with the Braleys, the Francises,                          and the  Paulsons.
Eleven out of the twelve days of Christmas that my husband remembers from his childhood.
"Rudy" the mongoloid reindeer that #3 made at our first home school group
So many more, and every one was special.
So tonight, I sit here just a little bit sad.  I look forward to the new memories, but mourn the reminders of old memories. Christmas is a great place to start making new memories.  Even if my memories are of risking my life to find decorations, or getting heartburn eating my kids most anticipated meal.  They will remember it as their parents trying to make things special for them.